KFH is dedicated to recommending quality resources to benefit our readers. This blog contains and is monetized through sponsored posts and affiliate links. Please see our full Terms of Service/ Disclosures for detailed information.
---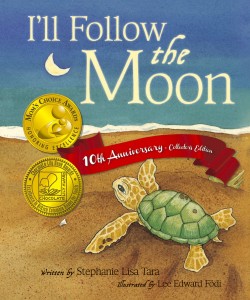 "On a quiet moonlit beach, a baby green sea turtle stirs from a dream of home. Slowly, slowly with a tap, crick, crack, the baby turtle embarks upon a mysterious nighttime journey. Gentle tender verse and enchanting illustrations carry this tranquil tale from sand to sea."
(My affiliate link is below:-)
For a limited time you can download the award winning children's book, I'll Follow the Moon
, for absolutely free on Amazon
.
If you don't have a Kindle, no worries! Did you know you can download the free kindle app to your computer, smartphone or tablet and you can be reading in minutes?
Amazon prices are quickly changing so be sure that it says $0.00 before you purchase.
Forest Rose is a God Loving, Blessed Wife, & Relaxed, Eclectic Homeschooling Mama to 3 girls – 8, 11, & 12 in Fort Wayne, Indiana. She's passionate about lifting moms out of the homeschooling trenches that are discouraged, overwhelmed or feeling alone or isolated. Her hope is to point them to Christ and equip them to rise up with a new found hope and joy within, that He alone can provide. Besides blogging, she also loves hanging out at her exclusive Facebook Group "Homeschooling 101 Community" that she started to help new homeschoolers thrive.