Some links mentioned on this blog are affiliate links for your convenience. For more information, read my complete disclosure policy
---
Preschool is such a fun time to explore and teach. When my girls were this age I used to love having themed activities for them to make it fun and interesting for them while learning the basics like letters, numbers,  and colors.
I still have a whole drawer full of themed printables that I used in the early years. I have a hard time letting go of them because of the memories that they stir up every time I open up that drawer (sigh).
I've been noticing that a lot of you may be interested in preschool and have littles at home right now. So I wanted to create something special just for you for Valentine's Day this year and hopefully more to come.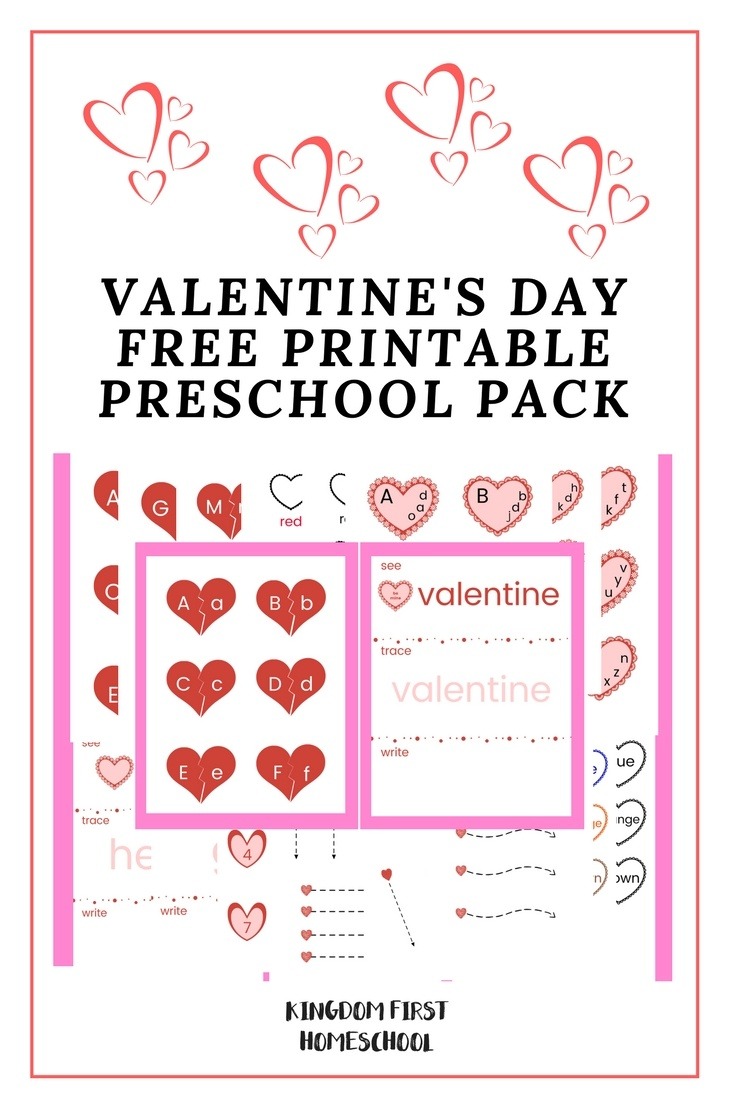 Exciting News
I have a HUGE preschool project in the works behind the scenes right now and I CANNOT wait to get closer to launch date to fill you in. So stay tuned if you are or will be homeschooling preschoolers in the future.
I'm telling you this right now so you can hold me accountable. Cause I am a bit of a procrastinator ha! Let me know in the comments if you have a preschooler at home. So I will HURRY!
>>>Get Your Free Preschool Pack<<<
Valentine's Day Free Preschool Printable Pack
What does the Valentine's Day Free Preschool Printable pack include?
Broken Heart Alphabet Match– Cut out hearts & cut along the line in the center. Mix them up & have your child match the uppercase letter with the lowercase letter. Optional- Laminate and glue magnets to the bottom of each section & use on a metal cookie sheet.
Color Word Identification Coloring Sheets – Color the heart the correct color of the word below. I've provided 1 Sheet with colors and one sheet black & white to make it a little harder.
Color Name Match – Cut out the hearts and have your child match the color with the correct color name. Optional – Laminate to make them last.
Scissor Skills – Cut Along the dotted line to fine tune those scissor skills.
Number Word Identification Match – Cut out the hearts and match the number with the number word. Bonus Counting hearts for counting practice too. Optional – Laminate to make them last.
See, Trace & Write – The idea of these is that the child will see the word & a picture, then trace the word then try to write it on their own. To make these last you can laminate them or put them in page protector sheets and use with dry erase markers.
Uppercase & Lowercase Match – Find the lowercase that matches the big uppercase letter in the corner. To do this your child can draw a line from the uppercase to the lowercase, circle the lowercase letter or you can cut them out and the child can use a clothespin to identify the correct match. Optional – Laminate to make them last.
Beginning Writing Skills – Trace along the dotted line. Optional – Laminate or use a page protector & use a dry erase marker.
>>>Get Your Free Preschool Pack<<<
---
For more homeschooling inspiration, tips and encouragement, make sure to follow KFH on Facebook, Pinterest, Instagram and Twitter, and subscribe to our Newsletter for some FREE GOODIES!
Forest Rose is a God Loving, Blessed Wife, & Relaxed, Eclectic Homeschooling Mama to 3 girls – 8, 11, & 12 in Fort Wayne, Indiana. She's passionate about lifting moms out of the homeschooling trenches that are discouraged, overwhelmed or feeling alone or isolated. Her hope is to point them to Christ and equip them to rise up with a new found hope and joy within, that He alone can provide. Besides blogging, she also loves hanging out at her exclusive Facebook Group "Homeschooling 101 Community" that she started to help new homeschoolers thrive.