Some links mentioned on this blog are affiliate links for your convenience. For more information, read my complete disclosure policy
---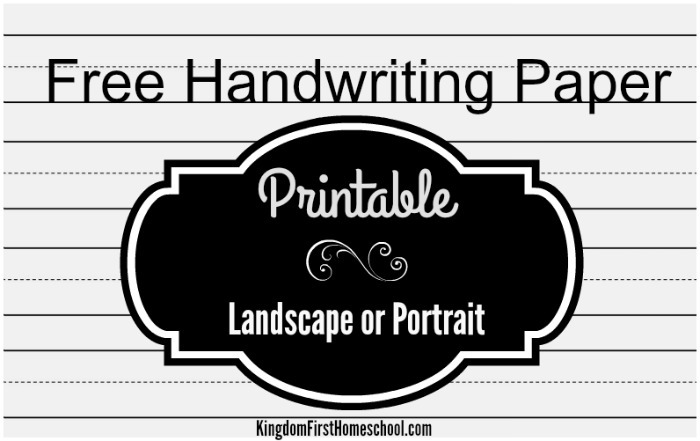 Kindergarten Handwriting Paper
Teaching kiddos to write can be challenging. Having paper with lines to guide them when they are little is a must. Hopefully this Kindergarten handwriting paper will come in handy. Download and Print and  you are good to go.
This is my first printable ever. I've wanted to make my own printables for my kiddos and also to share with all of you for a long time.
Well, I am starting simple. So here is a template for Kindergarten Handwriting paper I made to use with Jasmine's handwriting lessons. (Recently Updated Version) You can download the portrait style
HERE
or the landscape style
HERE
. Hopefully, this works…lol! If not please leave me a comment and let me know, I'll take any suggestions and feedback thanks and enjoy, I hope!
---
For more homeschooling inspiration, tips and encouragement, make sure to follow KFH on Facebook, Pinterest, Instagram and Twitter, and subscribe to our Newsletter for some FREE GOODIES!
Forest Rose is a God Loving, Blessed Wife, & Relaxed, Eclectic Homeschooling Mama to 3 girls – 8, 11, & 12 in Fort Wayne, Indiana. She's passionate about lifting moms out of the homeschooling trenches that are discouraged, overwhelmed or feeling alone or isolated. Her hope is to point them to Christ and equip them to rise up with a new found hope and joy within, that He alone can provide. Besides blogging, she also loves hanging out at her exclusive Facebook Group "Homeschooling 101 Community" that she started to help new homeschoolers thrive.