Some links mentioned on this blog are affiliate links for your convenience. For more information, read my complete disclosure policy
---
Are you wondering if you are capable of homeschooling your children? Do you doubt you have enough patience to homeschool? Do you worry about the socialization of your children if you do homeschool? Are you interested in the benefits and drawbacks for homeschooling children with special education needs or giftedness? Do you have questions about the homeschooling lifestyle?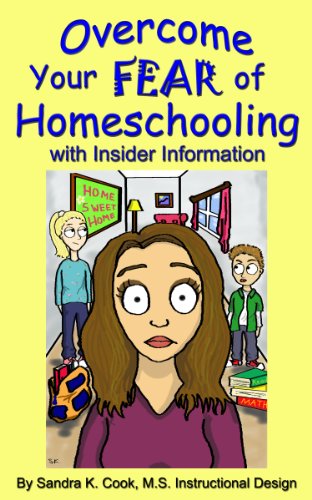 Click the picture to get this book in Kindle version. If you do not have a Kindle click HERE to get your free reader app for iOS, Android, Mac or PC . 
If you are at an educational crossroad and are considering homeschooling your child(ren), this book is written to help bring clarity to your understanding of how homeschooling really works by providing information from within the lifestyle. The aim of this book is to add clarity to your decision about whether homeschooling will work for you and your family by providing you with facts and insider insights. Whether your children are in elementary, middle, or high school, homeschooling can provide viable educational opportunities, which may not be obvious to you as a casual observer.
If you are considering homeschooling, The Book – Overcome Your Fear of Homeschooling will help you:
Find the patience you need for homeschooling, even if you don't think you have any.

Learn what homeschooling is really like from a mom who never intended to homeschool her children.

Learn about resources you can use to homeschool FREE.

Learn how to get started homeschooling for beginners, including what criteria you should use to pick homeschool curriculum.

Understand the MANY unexpected benefits of homeschooling your child.

Find out how to provide a quality high school education, even for subjects you don't know.

Learn how homeschooling special needs children can mean the difference between failure or making amazing educational success,

Learn how homeschooling can restore a bullied child's shattered self-esteem.

Learn how to accelerate the learning progress while homeschooling gifted and advanced learners,

Learn how to homeschool through high school with free online courses and other homeschooling resources.

Learn creative ways to survive economically.

Learn what to say and how to address concerns of a spouse or relatives.
---
For more homeschooling inspiration, tips and encouragement, make sure to follow KFH on Facebook, Pinterest, Instagram and Twitter, and subscribe to our Newsletter for some FREE GOODIES!
Forest Rose is a God Loving, Blessed Wife, & Relaxed, Eclectic Homeschooling Mama to 3 girls – 8, 11, & 12 in Fort Wayne, Indiana. She's passionate about lifting moms out of the homeschooling trenches that are discouraged, overwhelmed or feeling alone or isolated. Her hope is to point them to Christ and equip them to rise up with a new found hope and joy within, that He alone can provide. Besides blogging, she also loves hanging out at her exclusive Facebook Group "Homeschooling 101 Community" that she started to help new homeschoolers thrive.