Some links mentioned on this blog are affiliate links for your convenience. For more information, read my complete disclosure policy
---
Ugh, why do we need to work out? What really does it accomplish? Isn't there suppose to be change happening? The older I get the less change I see. My husband is a major fitness buff, so trying to keep up with him is basically impossible. Seriously he works out 2-3 hours a day, 7 days a week. I can't compete with that. I don't even have that kind of time. The last few years I have jumped on his gym train and really enjoyed it for awhile. I worked out on average 3 to 4 times a week, give or take a kid getting sick or some other really good excuse (ahem).
But I've come to realize I just can't do it. I cannot get into a routine anymore at the gym. I haven't seen enough results worth dragging the kids there weekly. A few years ago I could work out a little and get a big result right away. But the older I get the harder I have to work to see a tiny change. And Every time I get back into a nice groove, something interrupts. Last September I injured my wrist and it totally took me out of the game. Seriously I'm unmotivated to go to the gym.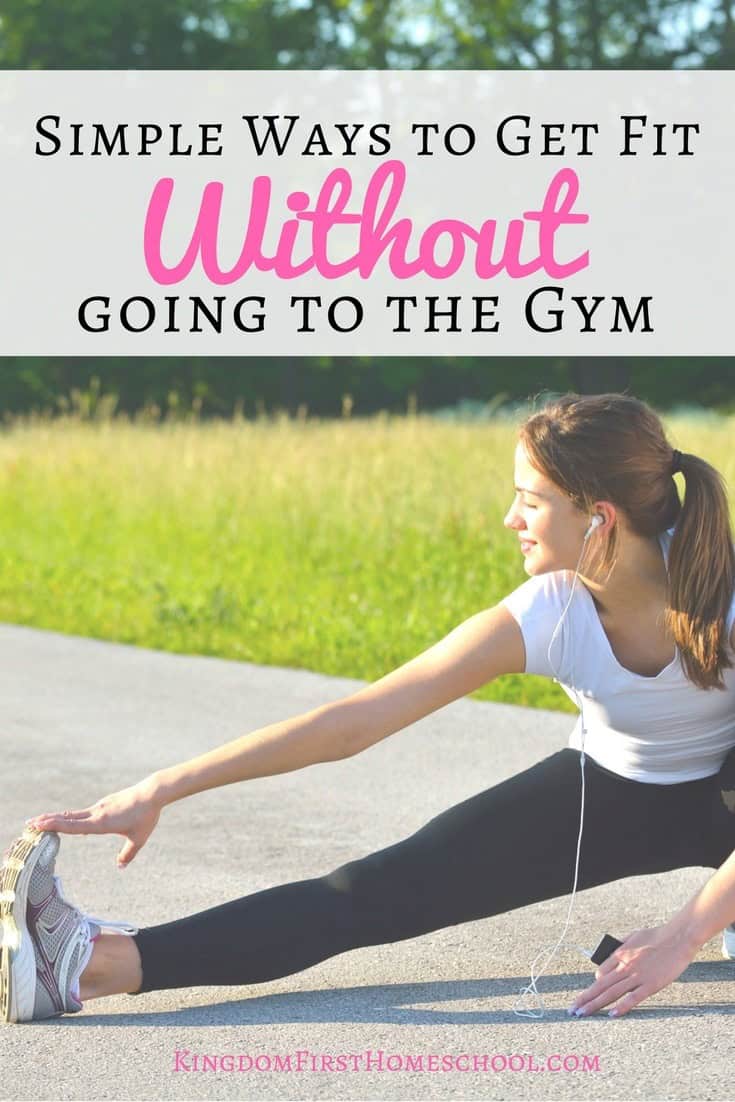 Don't Give up
If you are not naturally inclined (is there such a thing) to work out then you are probably a lot like me and you need to force yourself to do it. The thought of working out drains me and makes me want to crawl back into bed most of the time. I really loath the thought of working out, more than the actual act of it. I haven't always been this way because I used to be able to workout and get something out of it in return.
So I have completely quit going to the gym. For a couple months I did nothing, just ate a lot of chocolate I guess, cause I gained some poundage…eek! Those couple of months of inactivity just happened to fall on the highly dreaded dessert filled holiday months of November and December. (huge sigh)
Get Fit Without Going to the Gym
Digging deep to find motivation from each other is what we need to do. A good friend of mine and I have been motivating each other to workout lately. So for the past few weeks, I have really been getting back into it! But not in the gym. After taking a couple months off at the gym, my girls and I have entered into a really great school routine and seem to have a lot more time to get through our day and enjoy it more. We no longer have to get up and rush to the gym at 8 am, and we actually start school at a decent time.
So what do I do?
Well, before I started going to the gym a few years ago, I did home workouts. We had Comcast and the on-demand workout videos were great for a couple years, not sure if they still offer those. But I loved them. Then we switched to Direct TV and they didn't really have a great selection of on-demand videos, so I had to find another way. Then I found YouTube! Whole new world folks! Wow, you can find every kind of workout on YouTube! I just made playlists and I did a couple videos a day.
Once you push yourself to do it for a few weeks in a row, you do actually start waking up ready to work out! Trust me, it does get easier if you stick with it. I am back to feeling better and eating healthier. Just all around a better quality of life.
Give Yourself Grace
Now that I am back at home working out it was easy for me to slide right back into that routine because I already have a lot of my favorite videos saved and ready to go. I also have the sworkit app that I have downloaded and I do that occasionally too. So come on join me! You can do it! If I can, you can! Just one day at a time! Start with just 10 minutes a day and work your way up to 20 or more. If you miss a day don't worry about it. Give yourself grace and keep going.

Workout Without the Gym

YouTube videos –  remember to add your favorites to a playlist.

Bike, Run, jog, walk outside! Get your cardio on in the yard or around the block. Treadmills are great for an indoor run, which is especially useful when the elements make for a crappy outdoor session. But, in the summer I put my youngest in a stroller and the other two girls on bikes and we go for a run/bike ride. I run behind the stroller. I am not a runner, so I do a lot of… run a minute… walk a minute… crawl a minute… lol! Just do what you can do. Challenge yourself to make it to a certain point and then go a little further the next day.

Apps on your phone – Sworkit, 7 Minute Workout, Daily Workout app, Map My Run, search specific apps like running, yoga, strength training. (They have a sworkit for kids too!)

Google search or Pinterest search for workouts. Have you ever seen those Pinterest pictures that say 10 burpees, 20 jumping jacks, 30 crunches 3x a day. Search for these too! I have used a couple of these and don't really mind them at all. I usually only do them once through, but hey its a start right!
So there you go! Simple ways to get fit without going to the gym! You can do it!
Your turn — what are your best tips for getting fit at home?
You May Also Like – 21 Days to Get Healthier
---
For more homeschooling inspiration, tips and encouragement, make sure to follow KFH on Facebook, Pinterest, Instagram and Twitter, and subscribe to our Newsletter for some FREE GOODIES!
Forest Rose is a God Loving, Blessed Wife, & Relaxed, Eclectic Homeschooling Mama to 3 girls – 11, 13, & 15 in Fort Wayne, Indiana. She's passionate about lifting moms out of the homeschooling trenches that are discouraged, overwhelmed or feeling alone or isolated. Her hope is to point them to Christ and equip them to rise up with a new found hope and joy within, that He alone can provide. Besides blogging, she also loves hanging out at her exclusive Facebook Group "Homeschooling 101 Community" that she started to help new homeschoolers thrive.