Some links mentioned on this blog are affiliate links for your convenience. For more information, read my complete disclosure policy
---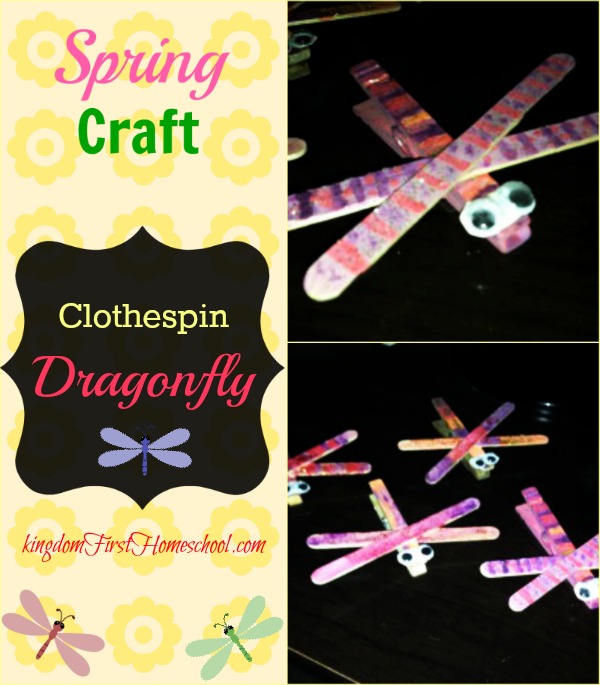 Getting into the mood for Spring is not a hard thing to do around here. Who doesn't love Spring right? Spring has sprung and we recently made this easy Spring craft, a clothespin Dragonfly. We painted, we sparkled, we even googly eyed! Yes Spring is here indeed! What a blessing is to be able to create with my little ladies.
What You'll Need to make this  Easy Spring Craft
Wooden Clothespins
Small Popsicle Sticks
Paint
Glue
Glitter Glue
Googly Eyes
Thick Round Magnets (optional)
How to make the clothespin Dragonfly:
Glue the Popsicle sticks towards the front of the clothespin & let dry (I should have did this the night before)
Paint the whole thing & let dry
Glue small googly eyes on a small piece of paper set aside to dry.
Apply Glitter Glue all over.
Glue the magnet to the bottom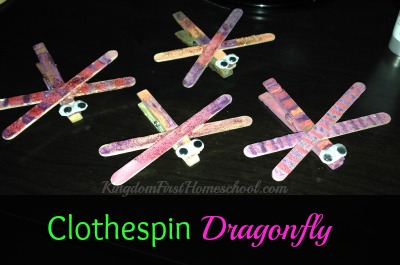 These turned out so cute, and you can use them to hang artwork on the fridge. I hope you enjoy doing this with your little ones.
What Spring Crafts have you been doing with your kiddos?
Inspired by Toronto4kids.com
---
For more homeschooling inspiration, tips and encouragement, make sure to follow KFH on Facebook, Pinterest, Instagram and Twitter, and subscribe to our Newsletter for some FREE GOODIES!
Forest Rose is a God Loving, Blessed Wife, & Relaxed, Eclectic Homeschooling Mama to 3 girls – 8, 11, & 12 in Fort Wayne, Indiana. She's passionate about lifting moms out of the homeschooling trenches that are discouraged, overwhelmed or feeling alone or isolated. Her hope is to point them to Christ and equip them to rise up with a new found hope and joy within, that He alone can provide. Besides blogging, she also loves hanging out at her exclusive Facebook Group "Homeschooling 101 Community" that she started to help new homeschoolers thrive.