KFH is dedicated to recommending quality resources to benefit our readers. This blog contains and is monetized through sponsored posts and affiliate links. Please see our full Terms of Service/ Disclosures for detailed information.
---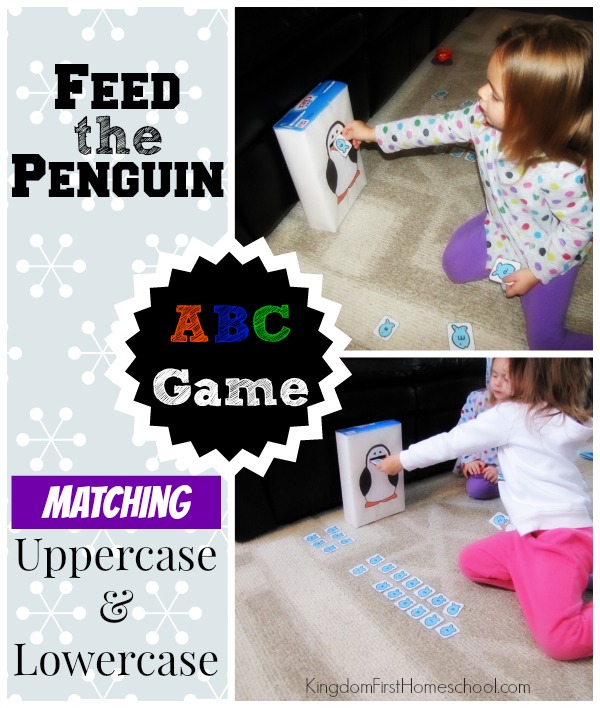 With the Winter Blues and Cabin fever setting in, I frantically was searching for something different and exciting for my preschooler Jordan to do. I pulled this one out of the archives and she LOVED it! Her not-so-little-anymore-big-sisters are in the pic above, sigh*sniff *sniff. Time sure does fly by! Anyway, It is the penguin fish eating game. The skill learned is matching the uppercase to the lowercase letter, once they match a letter they can then feed the penguin his yummy fishy snack. Jordan was hilarious she was sure the penguin was going to bite her, hahaha!  Silly girl 🙂
So here is the CUTEST GAME EVER!  The Feed the Penguin abc game printables can be found over at Making Learning Fun (one of my favorite preschool sites).  FYI you will need an empy cereal box.
What are doing to keep the winter blues at bay and make learning fun for your kiddos?
Looking for more Winter Activities?
Winter Activity Pinterest Board
1+1+1=1 Winter Theme printables and more
Forest Rose is a God Loving, Blessed Wife, & Relaxed, Eclectic Homeschooling Mama to 3 girls – 8, 11, & 12 in Fort Wayne, Indiana. She's passionate about lifting moms out of the homeschooling trenches that are discouraged, overwhelmed or feeling alone or isolated. Her hope is to point them to Christ and equip them to rise up with a new found hope and joy within, that He alone can provide. Besides blogging, she also loves hanging out at her exclusive Facebook Group "Homeschooling 101 Community" that she started to help new homeschoolers thrive.