Some links mentioned on this blog are affiliate links for your convenience. For more information, read my complete disclosure policy
---
In this post: First day of homeschool printables, traditions and activities to kick off the school year and make it memorable for you and your kids.
When is your first day of homeschool? I know a lot of you have already started, but maybe you could still add a few of these fun activities throughout the coming months.
Here we are again starting another school year. We always try to make the first day of homeschool fun! But first I just want to tell you a bit about our summer. You know, it seems like summer just flies by. So not fair!
When I was a kid, summer seemed so long. It felt as though we had all the time in the world, but now as a mother, I feel a bit saddened by how everything moves so fast. It just doesn't seem possible that I have 2nd, 4th & 6th Graders. Crazy!
But, alas, we have had a super fun summer with lots of fun days spent with friends and family. Locally we've gone to parks, the zoo, the nature preserve, the beach and so many fun days just riding bikes or having water fights in the backyard.
It's not completely over though we still have a couple months of mild weather to enjoy. We are hoping to go camping and to the beach at least a couple more times before it's all said and done. We shall see what the last few summer weeks bring our way.
Ok, on to the good stuff! First Day of homeschool printables and more!
So I am in planning mode for school finally. I've been procrastinating this year because I just haven't really been in the mood. Any of you ever have years like that? You just can't seem to transition from summer to school? Yeah friends, the struggle is in full effect here at my house.
Seriously, you should see the area around me right now, I can't even see the floor I have so many books surrounding me. And this is not just from today it's been like that for weeks. Ugh! I need a swift kick into planning gear and I need it now!
The only part of planning that I'm even excited about is the first day of school fun! This is the best day and I love to kick off the school year with tons of fun! So I thought I would share a list of some fun things we have done in the past 8 years and also share a few that I am hoping to this year or a future year.
I like lists so I thought it would be easiest to just list a few. We used to have the first day of school on a Monday, but in the last couple years I have started on a Friday and it has been fabulous. The first day is all fun anyway, so the kids don't dread the start and neither do I 'cause we have an immediate 2 day break following! #winning
Maybe this is your first year of homeschooling and you are still wondering how do I get started homeschooling today?
First Day of Homeschool Traditions
First day of homeschool pictures – Every year we make a sign with the girls' grade and name on it, but this year I decided to make one and I made a printable for you too for preschool to 12th grade. I just love looking back at all the pictures and see how much they've changed and grown. Bitter-Sweet for sure.
Decorate likes it's a birthday party – Decorating for birthdays is something we do every single birthday, but I also do it every first and last day of school. It just sets the tone of fun for the upcoming school year. If you've been reading my blog for all these years you already know that I am a firm believer that kids learn and retain at a higher level when they are enjoying what they are doing. So make it fun, fun, fun.
Make a homeschool vision board – This is a new one for us. We aren't doing this on the first day of school. We made our Kingdom First Homeschool vision board earlier this year as part of a challenge from the 31 Reasons We Love Homeschooling Blog Party that I was blessed to be a part of. Making this last year was so fun and it really put everything into perspective as to how we wanted our next school year to look. We created ours digitally using Canva. You can also get a posterboard and cut out pictures and words from magazines and make it that way too.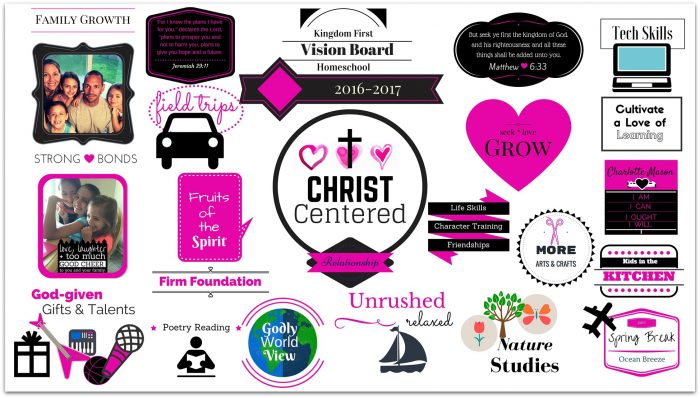 Pray over your school year together – We try to start everything with prayer – a new day, a new year, every meal, every time we go somewhere and in everything we do, we pray. Starting our first day of homeschool thanking God and keeping Him first is a huge priority. We pray for guidance, for direction, for peace, for joy all of the good things that He promises us we stand in agreement for. I love this 30 Days of Praying for My Homeschool Challenge.
Fill out a first day of school questionnaire – We've done this off and on over the years but haven't made this a solid tradition although I wish we had. So this year I wanted to make it a priority, we are using this ONE from Teaching Mama. Of course, you don't need a printable, you can just ask your child a few basic questions, what's your favorite food, color, measure their height, jot down their shoe size…etcetera, etcetera.
End the day with a special treat – In the past, we've gone to get ice cream or doughnuts. You could also bake cookies together or get all the fixings to make ice cream sundaes at home. Set out all the toppings and let them create their own. Kids always love to create what they are eating and it's ice cream so you really can't go wrong here.
More First Day of Homeschool Activities
Wrap all your child's new school supplies
Do a treasure hunt with special gifts hidden
Make goals for the school year
Picnic at the park or in your backyard
Plan a surprise field trip (zoo, nature reserve, museum)
Start a journal for each of your kids and write a bit about your hopes for them this year.
Have your kiddos draw a self-portrait
Do a paper chain to count down the days until the first day of school
Make T-shirts with their name and grade and/or homeschool name
Honestly, there are so many more ideas. Check out these also…
Back to Homeschool Celebration
25 Fun First Day of School Traditions
Whatever you decide to do for your first day of homeschool traditions, just remember to keep it fun and easy. This day for us is just a day to celebrate. As homeschoolers, we have a lot to celebrate and look forward too. Whether this is your first year of homeschooling or your 10th. Just know that the single decision to make your kid's education your top priority is a huge accomplishment in and of itself! So let the fun begin! I truly hope you all have a blessed homeschool year.
What are some of your first day of homeschool traditions?
Up Next – Homeschooling 101 30 Day Series for How to Get Started Homeschooling Confidently
---
For more homeschooling inspiration, tips and encouragement, make sure to follow KFH on Facebook, Pinterest, Instagram and Twitter, and subscribe to our Newsletter for some FREE GOODIES!
Forest Rose is a God Loving, Blessed Wife, & Relaxed, Eclectic Homeschooling Mama to 3 girls – 8, 11, & 12 in Fort Wayne, Indiana. She's passionate about lifting moms out of the homeschooling trenches that are discouraged, overwhelmed or feeling alone or isolated. Her hope is to point them to Christ and equip them to rise up with a new found hope and joy within, that He alone can provide. Besides blogging, she also loves hanging out at her exclusive Facebook Group "Homeschooling 101 Community" that she started to help new homeschoolers thrive.