Some links mentioned on this blog are affiliate links for your convenience. For more information, read my complete disclosure policy
---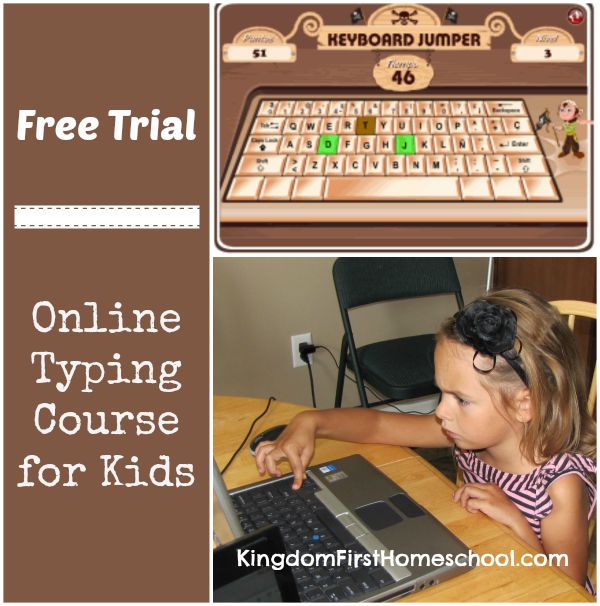 Add this to your child's curriculum this year!!!
I started a free trial of typekids with my 7 year old recently. This online typing course for kids gave us the first 3 courses free. We liked it, of course anything new is difficult, but I think this would be a good fit for her if I were to purchase it.
Seems to be easy to follow, detailed instructions with a pleasant instructor to walk you through everything. You can also ask questions if you have any. Progress reports help you to see your child's strengths and weaknesses and they also have games at the end of each completed lesson for a reward…pretty cool!
About typekids:
Learn from home or any computer connected to the Internet

Explanations with sound and animations

Importance given to ergonomics

Fun learning: different games at the end of each lesson

Custom exercises for each student

Children not exposed to advertising

Automatic detection of difficult letters

Methodological course buildup and structure

Progress reports

Ask your questions to experts

Participate in a pirates adventure

Course designed for children

Learn from home or any computer on the Internet.

Explanations with sound and animations.

Exercises tailored to each student.

A course that is useful and FUN!
After completing the course you will be able to type even when blindfolded!
You can start your own FREE TRIAL today to check it out then you can upgrade to the complete course risk-free whenever you want. They're confident you will like the course, so they offer a full money-back guarantee if you cancel within one month.
You can get the complete 30 lesson course for $89.95, not too bad for a full year's course, but I usually go for the free or cheapest curriculum possible to conserve especially on anything that is not core. My experience with this online curriculum has been satisfactory no problems or complaints that I can tell thus far. 
Disclosure

:  I was granted full access to this course for my review.
---
For more homeschooling inspiration, tips and encouragement, make sure to follow KFH on Facebook, Pinterest, Instagram and Twitter, and subscribe to our Newsletter for some FREE GOODIES!
Forest Rose is a God Loving, Blessed Wife, & Relaxed, Eclectic Homeschooling Mama to 3 girls – 8, 11, & 12 in Fort Wayne, Indiana. She's passionate about lifting moms out of the homeschooling trenches that are discouraged, overwhelmed or feeling alone or isolated. Her hope is to point them to Christ and equip them to rise up with a new found hope and joy within, that He alone can provide. Besides blogging, she also loves hanging out at her exclusive Facebook Group "Homeschooling 101 Community" that she started to help new homeschoolers thrive.