Some links mentioned on this blog are affiliate links for your convenience. For more information, read my complete disclosure policy
---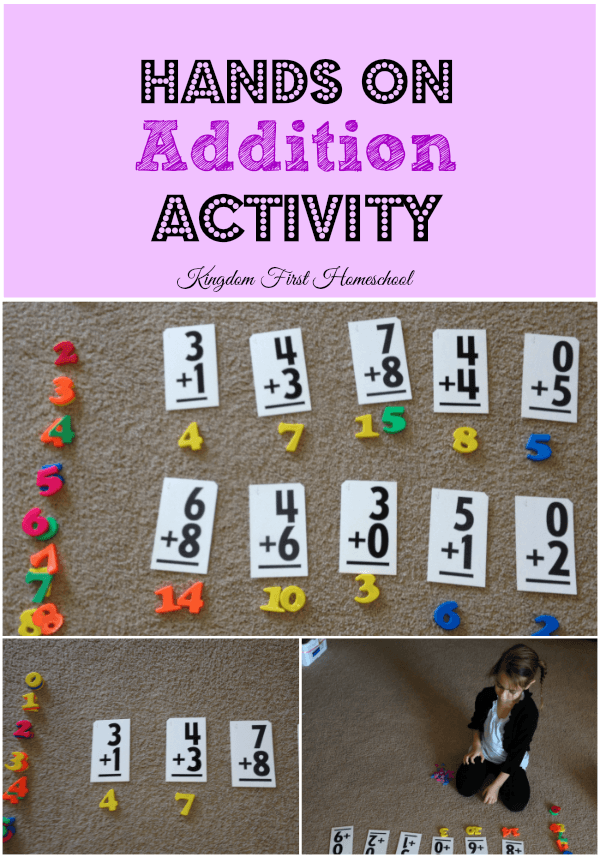 Finding different and fun ways to do math is a must with my middle child, she is such a hands on learner! Chances are you probably have one of these in your family too! If you do I hope that this easy hands on addition activity will be of help!
Sometimes just crunching numbers in their little heads isn't enough, while in my opinion it is important to use several techniques when teaching math, hands on is one of the best methods to get them learning fast.
Hands on Addition Activity
Supplies:
Addition Flashcards
Numbers (I used magnet numbers)
Manipulatives -Optional (i.e. counting bears, tiny erasers, beads…anything they can use to add with)
Set up:
Just simply lay the flashcards out into a row. And the number magnets in a line in order next to the flashcards so the numbers are easy to find. And that's it.
I think the pictures do the explaining for me. It's super easy set up and clean up!
---
For more homeschooling inspiration, tips and encouragement, make sure to follow KFH on Facebook, Pinterest, Instagram and Twitter, and subscribe to our Newsletter for some FREE GOODIES!
Forest Rose is a God Loving, Blessed Wife, & Relaxed, Eclectic Homeschooling Mama to 3 girls – 8, 11, & 12 in Fort Wayne, Indiana. She's passionate about lifting moms out of the homeschooling trenches that are discouraged, overwhelmed or feeling alone or isolated. Her hope is to point them to Christ and equip them to rise up with a new found hope and joy within, that He alone can provide. Besides blogging, she also loves hanging out at her exclusive Facebook Group "Homeschooling 101 Community" that she started to help new homeschoolers thrive.