Some links mentioned on this blog are affiliate links for your convenience. For more information, read my complete disclosure policy
---
Whether you have been homeschooling for decades or just getting started, a good homeschooling book can make all the difference. I have poured over so many of the best homeschooling books over the 7 years of homeschooling my kids. A great book always gives me that push I need to keep on keeping on. I soak up all the inspiration and encouragement, tips and ideas, I possibly can to aid me in continuing this, sometimes daunting, yet amazing journey.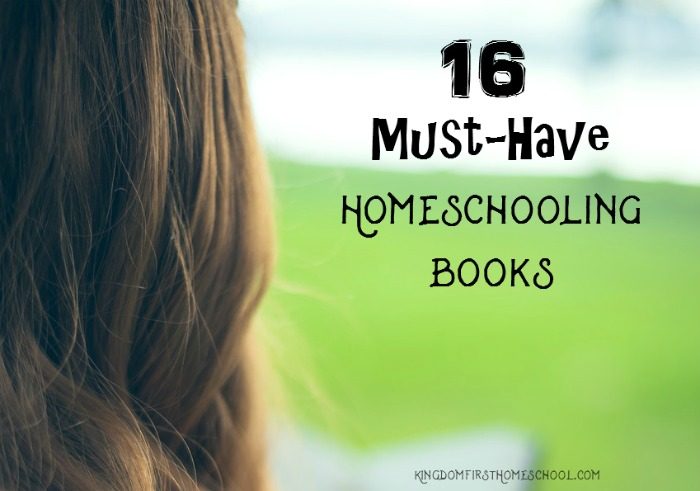 Must-Have Homeschooling Books
These are my top homeschooling book choices I believe every homeschool mom needs to have in her extensive library. Some of these you can find at the library or  even borrow from a friend, but most of these you are going to want your own copy to read again and again. Yes, they are that good.
Home Learning Year by Year
by Rebecca Rupp
A comprehensive guide to designing a homeschool curriculum, from one of the country's foremost homeschooling experts. , Rebecca Rupp presents a structured plan to ensure that your children will learn what they need to know when they need to know it, from preschool through high school. Based on the traditional pre-K through 12th-grade structure.
The Three R's
by Ruth Beechick

Three resources in one READING, WRITING, and ARITHMETIC! Learn how to take the mystery out of teaching the early grades with this practical, down-to-earth guidebook from Ruth Beechick. The book is divided into three sections that are tabbed for easy reference. The READING section tells how and when to begin phonics, and how to develop comprehension skills.
The LANGUAGE section shows how to develop written language skills naturally, in the same way children learn oral language. The ARITHMETIC section explains how to teach understanding of math concepts, and not just memorization of facts. Bonus: A removable 2-sided wall chart for phonics and arithmetic.
For the Children's Sake
by
Susan Schaeffer Macaulay
For the Children's Sake is a book about what education can be, based on a Christian understanding of what it means to be human-to be a child, a parent, a teacher-and on the Christian meaning of life. The central ideas have been proven over many years and in almost every kind of educational situation, including ideas that Susan and Ranald Macaulay have implemented in their own family and school experience.
For the Children's Sake will benefit parents and teachers in any educational setting-homeschooling, public school, or private school. This new edition features an updated cover design.
Charlotte Mason Companion: Personal Reflections on the Gentle Art Of Learning
by Karen Andreola
Today's parents can now see what a Charlotte Mason education looks like in a contemporary setting while gleaning from its many benefits. Charlotte Mason's principles of education are not only a way of learning but also a way of life. A Charlotte Mason Companion gives you powerful tools to create an extraordinary learning experience. At the turn of every page, you will meet a practical idea and the inspiration to carry it out.
Topics on using good books, heroes in history, poetry, art and music appreciation, nature study, the atmosphere of home, the discipline of habit, keeping up enthusiasm, (to name a few) are referred to again and again by Karen s readers. It is one of the most trusted and often quoted books in the home school world since 1998. Plenty of encouragement, wisdom and gentle instruction await you in this beautifully written and beautifully illustrated book. You will not want to loan this one out!
Teach Your Own: The John Holt Book Of Homeschooling
Today more than one and a half million children are being taught at home by their own parents. In this expanded edition of the book that helped launch the whole movement, Pat Farenga has distilled John Holt's timeless understanding of the ways children come to understand the world and added up-to-the-moment practical advice.
Rather than proposing that parents turn their homes into miniature schools, Holt and Farenga demonstrate how ordinary parents can help children grow as social, active learners. Chapters on living with children, "serious play," children and work, and learning difficulties will be of interest to all parents, whether home schooling or not, as well as to teachers.
Beyond Survival: A Guide to Abundant Homeschooling
By Diana Waring
Teaching your children at home is much more than giving lessons in reading, writing, and arithmetic; it is a journey toward a lifetime of learning that will expand your horizons as well as theirs. In order to help you on your way, Diana Waring offers this transparent description of her family's own homeschooling experience.
Whether you are contemplating homeschooling or are a seasoned veteran, this insightful guide can help you build a healthy environment that fosters enthusiastic learning. Diana includes a list of recommended resources that will allow you to dig more deeply into what you find interesting. With warm encouragement and inspiration, Diana gives you the courage that you, too, can do this!
Educating the Wholehearted Child
By Clay Clarkson with Sally Clarkson
Whether you are a first-time homeschooler or a longtime veteran, this comprehensive guide will equip and empower you for your journey of faith as a family. Discover the joy of bringing relationship-based, book-centered learning into the natural daily life of your home.
102 Top Picks for Homeschool Curriculum
By Kathy Duffy
102 Top Picks makes it easy for home educators to select the right curriculum for each family situation and each child's learning style. Widely-recognized curriculum expert Cathy Duffy walks you through the curriculum selection process: goal setting, figuring out which educational approach to use, developing your own philosophy of education, determining your teaching style, and identifying your children's learning styles. "At-a-glance" charts highlight key features of each Top Pick selection. Scanning through the charts allows you to quickly identify products likely to be of interest. The charts are followed by extensive reviews of each of Cathy's Top Picks. This is an updated and extensively revised edition of 101 Top Picks for Homeschool Curriculum.
Project-based homeschooling

– Mentoring Self-Directed Learners
by Lori Pickert
Project-based homeschooling combines children's interests with long-term, deep, complex learning. This is an essential experience for children: to spend time working on something that matters to them, with the support of a dedicated mentor.
This book is an introduction and guide to creating the circumstances under which children can teach themselves. The author gives parents concrete tips for helping children do challenging, meaningful, self-chosen work.
From setting up a workspace that encourages independence to building a family culture that supports self-directed learning to concrete suggestions for a step-by-step approach to inquiry-based investigation, Project-Based Homeschooling shares techniques for mentoring independent, confident thinkers and learners.
So Your Thinking about Homeschooling: Fifteen Families Show You How You Can Do It
by Lisa Whelchel
Confused and intimidated by the complexities of homeschooling, many parents assume it could never work for them. Now an updated edition of So You're Thinking About Home Schooling by Lisa Whelchel—herself a homeschooling mother of three—introduces to readers fifteen composite portraits of homeschooling families who show how every family can successfully face the unique challenges of its situation.
The story-based approach deals with common questions of time management, teaching weaknesses, and outside responsibilities, as well as children's age variations, social and sports involvement, learning disabilities, and boredom. Seeing a wide variety of homeschooling families in action gives parents the information and confidence they need to make their own decisions about home-based education. Includes a new chapter from Lisa and an all-new resource guide with recommendations from real-life homeschooling families!
The Well Trained Mind: A Guide to Classical Education at Home
by Susan Wise Bauer and Jessie Wise
The Well-Trained Mind will instruct you, step by step, on how to give your child an academically rigorous, comprehensive education from preschool through high school—one that will train him or her to read, to think, to understand, to be well-rounded and curious about learning. Veteran home educators Jessie Wise and Susan Wise Bauer outline the classical pattern of education called the trivium, which organizes learning around the maturing capacity of the child's mind and comprises three stages:
The elementary school "grammar stage," the middle school "logic stage," and the high school "rhetoric stage." Using this theory as your model, you'll be able to instruct your child in all levels of reading, writing, history, geography, mathematics, science, foreign languages, rhetoric, logic, art, and music, regardless of your own aptitude in those subjects.
The Way They Learn
by Cynthia Ulrich Tobias
Draw out the best in your children—by understanding the way they learn. If you're frustrated that your child isn't learning the way you did, chances are they are too! In this practical resource, Cynthia Ulrich Tobias explains that understanding how you both learn can make all the difference.
Raising Our Children, Raising Ourselves
by Naomi Aldort
Every parent would happily give up ever scolding, punishing or threatening if she only knew how to ensure that her toddler/child/teen would thrive and act responsibly without such painful measures. Raising Our Children, Raising Ourselves is the answer to this universal wish. It is not about gentle ways to control a child, but about a way of being and of understanding a child so she/he can be the best of herself, not because she fears you or seeks your approval but because she wants to, of her own free will.

Lies Homeschooling Moms Believe
by Todd Wilson
Your house is a disaster, your kids seem out of control, and you wonder how you'll ever make it through another day of school. Your 'get up and go' has 'gotten up and went'. You used to think homeschooling was the best thing since sliced bread, but now you're feeling like burnt toast. Take heart– you're not alone!
Most homeschooling moms are prone to believing lies that say, you're not good enough…you aren't qualified…and you are ruining your children. If you believe these lies, you will crumble under the weight of homeschooling and feel defeated and alone. But if you learn to recognize these lies and combat with the TRUTH, then you will experience peace, joy, and freedom. Look inside these pages to discover the steps to combat the lies homeschooling moms believe and to fill your mind and heart with the truth.
Honey For a Child's Heart
by Gladys Hunt
Everything parents need to know to find the best books for their children
Since its publication in 1969, this has been an essential guide for parents wanting to find the best books for their children. Now in its fourth edition, Honey for a Child's Heart discusses everything from the ways reading affects both children's view of the world and their imagination to how to choose good books.

The Ultimate Book of Homeschooling Ideas 
by Linda Dobson

Fun and Effective Home Learning Activities for Every Subject
As a homeschooling parent, you're always looking for new and creative ways to teach your child the basics. Look no longer! Inside this innovative helper, you'll find kid-tested and parent-approved techniques for learning math, science, writing, history, manners, and more that you can easily adapt to your family's homeschooling needs. And even if you don't homeschool, you'll find this book a great teaching tool outside the classroom. You'll discover fun and educational activities for kids ages 3 to 12.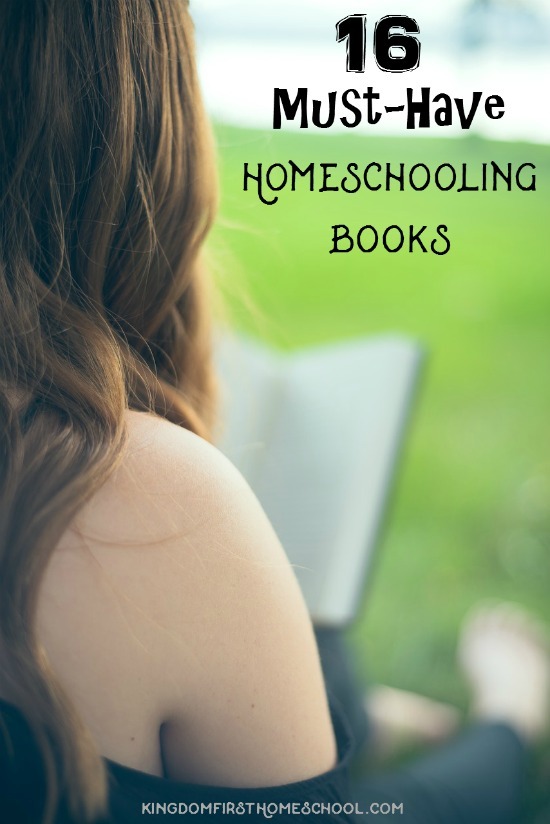 I'm sure you will find something great to read from this list! All of these homeschooling books are filled with guidance, tips, tricks, hacks, encouragement and inspiration to keep your homeschooling family growing in a love for learning together. Be sure to check your local library for these also. My library carries a few of them, but you will want your own copy of most of these great books.

Now it's your turn. What great homeschooling books do you recommend? I'm always on the look for a good book so be sure to leave your suggestions in the comments.
---
For more homeschooling inspiration, tips and encouragement, make sure to follow KFH on Facebook, Pinterest, Instagram and Twitter, and subscribe to our Newsletter for some FREE GOODIES!
Forest Rose is a God Loving, Blessed Wife, & Relaxed, Eclectic Homeschooling Mama to 3 girls – 8, 11, & 12 in Fort Wayne, Indiana. She's passionate about lifting moms out of the homeschooling trenches that are discouraged, overwhelmed or feeling alone or isolated. Her hope is to point them to Christ and equip them to rise up with a new found hope and joy within, that He alone can provide. Besides blogging, she also loves hanging out at her exclusive Facebook Group "Homeschooling 101 Community" that she started to help new homeschoolers thrive.