Some links mentioned on this blog are affiliate links for your convenience. For more information, read my complete disclosure policy
---
I want to let you know about this amazing new CD that just dropped recently. World of Christmas features original songs and arrangements of Christmas classics. A unique blend of styles, world beats, and melodies, the CD is a cross between several different countries and musical genres – but retains the same inspiring messages, the singer and songwriter,  DeDe strives to share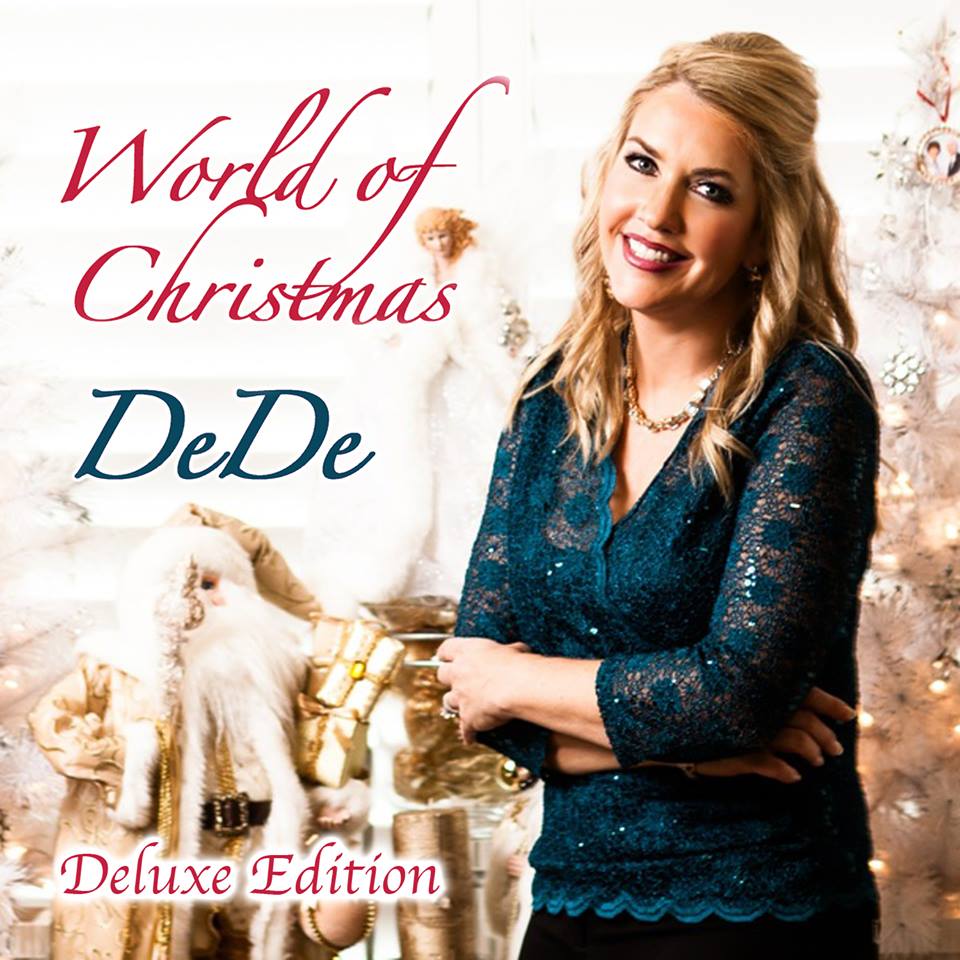 Each song has its own unique sound. The range of DeDe's vocals are amazing and have been compared to those of Taylor Swift, Adele, Celine Dion, Karen Carpenter, Eva Cassidy, Sarah McLachlan…wow!
DeDe has been singing all her life, but only in the last two years has she devoted herself to her music full-time, DeDe credits God for returning her to her gift. Years ago she quit music to focus on a career that she thought made more sense. she then started to dream about music and hear songs in her that she never heard before, such an amazing of story of God calling her back to her destiny.
World of Christmas Songs
1-Song In the Air
2-One Child
3-Deck the Halls
4-Ave Maria (Medley)
5-Joyful Christmas
6-New Auld Lang Syne
7-Rock Those Jingle Bells
8-Canon on the Lord's Prayer
9-Jolly Old St. Nicholas
10-Silent Night
Here's DeDe's Favorite Song on the 'World of Christmas' Album. She said,"It's about how one tiny child can change the world, and that's my other true calling – giving children inspiration. I want kids and teens to know that you must follow your heart, find your dreams and make them come true."
When I listened to this CD, I was simply amazed, this is beautiful! DeDe has such an amazing gift and I am so glad she pursued the calling and gift that she was blessed with. My prayer for her is that she continue to love and grow all for the glory of God! If you would like to download this CD head on over to
iTunes
and do so, you will love it, I promise!! We will be enjoying this all this Christmas season and many more to come.
I was given a complimentary download of this CD in order to give my honest review.
 Read my full Disclosure Here
---
For more homeschooling inspiration, tips and encouragement, make sure to follow KFH on Facebook, Pinterest, Instagram and Twitter, and subscribe to our Newsletter for some FREE GOODIES!
Forest Rose is a God Loving, Blessed Wife, & Relaxed, Eclectic Homeschooling Mama to 3 girls – 8, 11, & 12 in Fort Wayne, Indiana. She's passionate about lifting moms out of the homeschooling trenches that are discouraged, overwhelmed or feeling alone or isolated. Her hope is to point them to Christ and equip them to rise up with a new found hope and joy within, that He alone can provide. Besides blogging, she also loves hanging out at her exclusive Facebook Group "Homeschooling 101 Community" that she started to help new homeschoolers thrive.