Some links mentioned on this blog are affiliate links for your convenience. For more information, read my complete disclosure policy
---
Over the past couple of weeks, we have been having fun learning and practicing sight words with our new game given to us to review,
Zingo! Sight Words
, by ThinkFun. If you have  read my blog for any amount of time, you probably know this momma loves fun learning games. I am a firm believer that when we are having fun and enjoying whatever it may be, we are learning at a higher level.
The dreaded sight words or should I say "Trick Words". Sight words are words you cannot sound out usually, so after teaching your child to sound the word family words out and they get a good rhythm going on, now we have to throw a wrench in it with these crazy words…lol! Teaching sight words may try to trip you up, as a teacher, but don't let them keep you down. Sight words, as you know, are very important for children to learn, they make up over half of what we read, so you want your child to be strong and confident with these words, but it doesn't have to be boring and time-consuming. Make it fun with Zingo! Sight Words.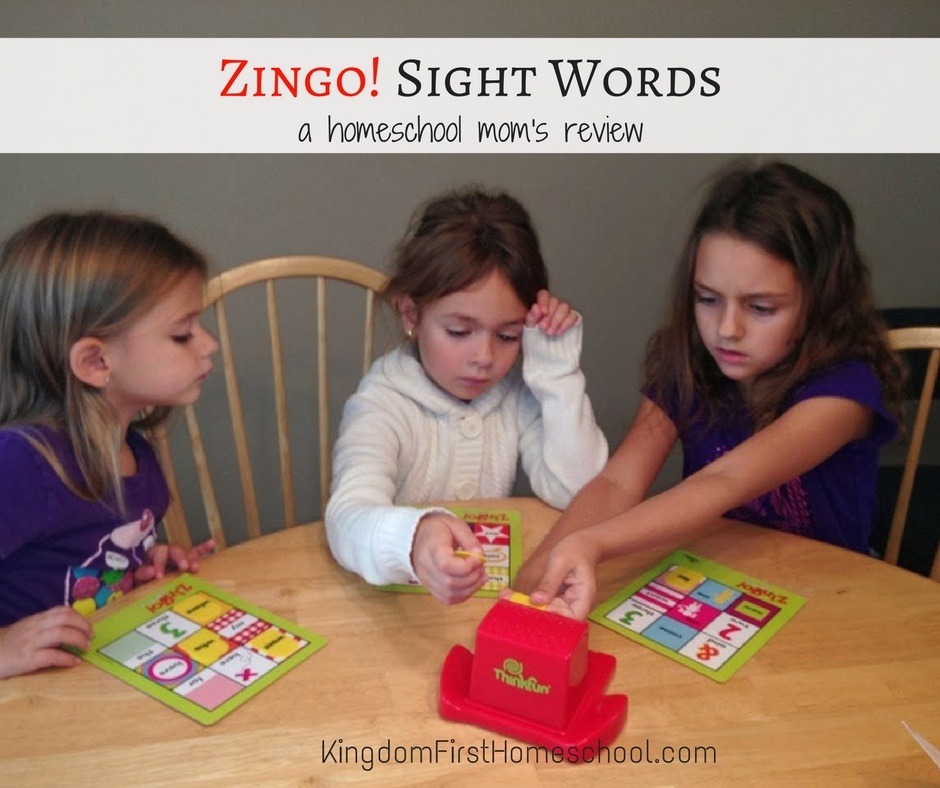 I have one struggling reader and one fluent reader and they both enjoy this game. The one that struggles, though, I make sure to play this game mostly one on one to slow it down a bit, otherwise, the fluent reader takes over and totally dominates the game, hence discouraging my struggler. So beware, make sure to give a little competitiveness, but when it comes to learning make sure it is relaxed and fun.
More about Zingo! Sight Words
Two levels-One side of the game board is less competitive/Other Side more competitive.
Developing Skills
Sight Word Recognition

Vocabulary

Matching

Observation and Perception

Concentration and Memory

Fine Motor Skills and Coordination

Following Instructions

Taking Turns

Winning and Losing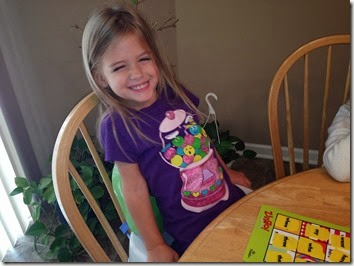 Things we love about Zingo
This game is a spin-off of the very popular bingo game and we love bingo! I love the Zingo Zinger and it works great. The girls had no problem sliding it or putting the tiles back into the slots…even my 3-year-old could do it:-)  Yes my 3-year-old plays too! She gets some help from momma in her corner, but she is really good at matching, even though she can't read. That's why I love the pictures and patterns. They provide extra help for the early learners and the struggling readers.
Who Should Play Zingo?
This game is meant for PreK-1st grade, but my 2nd grader and 3-year-old preschooler love it too. You can vary the game to match the level any way you want to.
The Various Ways We Play Zingo Sight Words
3-year-old
3 year old, she matches the words and the pictures, without knowing what they say.
For my 1st and 2nd graders, I have them close their eyes after they say the word and have them spell it or use it in a sentence.
I plan on, in the future, having them maybe write the spelling/sentence on paper to get extra handwriting practice in too…Not every time though I still want to keep it fun.
What We would Change
There are actually only 24 words, the game description says 72 tiles, so you would assume that there are 72 different words, not so…hmm. I would definitely say please add more words:-)
We give the sight words game of
Zingo!
*****5 Stars it's Fun, Educational, Interactive and great for family game night:-)
I was given a free product from Thinkfun in exchange for my honest review🙂
---
For more homeschooling inspiration, tips and encouragement, make sure to follow KFH on Facebook, Pinterest, Instagram and Twitter, and subscribe to our Newsletter for some FREE GOODIES!
Forest Rose is a God Loving, Blessed Wife, & Relaxed, Eclectic Homeschooling Mama to 3 girls – 8, 11, & 12 in Fort Wayne, Indiana. She's passionate about lifting moms out of the homeschooling trenches that are discouraged, overwhelmed or feeling alone or isolated. Her hope is to point them to Christ and equip them to rise up with a new found hope and joy within, that He alone can provide. Besides blogging, she also loves hanging out at her exclusive Facebook Group "Homeschooling 101 Community" that she started to help new homeschoolers thrive.